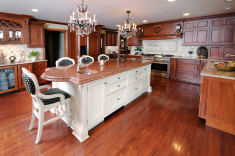 So you are looking to renovate your home and you figure the best place to start is under foot.  But before you go tearing up those floors take a closer look. Wood is a beautiful, natural, hypo-allergenic product that as it ages gains more charm and allure, along with the marked history of your life. But the question at hand is, how much history do you need to see in those floors before it is time to rewrite history and start with a clean slate?
Hardwood flooring is remarkably able to take a lot of abuse and continue to look beautiful. It is not hard to take 60-year old floors and make them look brand new again. In fact a whole industry is based around this look for the flooring. Reclaimed hardwood floors take old wood from factories or barns and repurposes them into flooring that while not perfect has a brilliant character that millions of people love.
Your floors are not old factory or barn floors but they might still have a little life left in them. Depending on the state of your floors, they might just need to be sanded down then re-varnished to bring them back to a lustre that you could live with. Damaged floor sections can be patched, holes can be plugged, squeaky floors can be tightened, and pet marks can be buffed out. I have said before, when it comes to how things look, it comes down to personal taste.
If you are looking for warmth and charm, then keep the floors and simply refurbish them, but if you are looking for clean, uniformity throughout your home then tear up those floors. Of course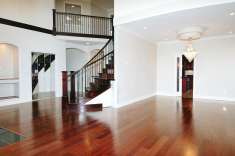 some old floors are beyond repair. If there is too much movement between boards or substantial structural problems underneath, then they are not good candidates but for the most part 90% of flooring can be saved. If you have ever seen an episode of the TV show Hoarders you will know that hardwood floors can withstand a lot after a cleanup.
So before breaking out the crowbar and tearing up your house, maybe take a second look at those tire
d old floors. If you have any question then please come down to The Hardwood Flooring Store and any of our associates will be able to guide through the next steps. Our goal is to give you the right info not sell yo something you don't need