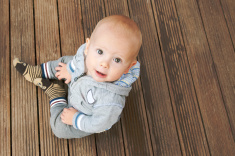 Choosing a Floor
Could your bathroom use a new look? Is the vinyl floor in your kitchen in need of an update? Maybe you've been dreaming of replacing the family room carpet with hardwood or laminate flooring. A new floor is a big investment that requires careful consideration and pre-planning. Start by choosing a flooring type. There are lots of flooring options available today – from the new players: luxury vinyl and bamboo – to the more familiar flooring types: hardwood, laminate, vinyl sheet, vinyl tile and linoleum. Read about the pros and cons of each before making your selection.
Once you've selected a flooring type, the next step is to consider the room where your new floor will be installed. The floor you choose should fit your decorating style, your lifestyle and your budget.
Considerations
Location

How much traffic does the room get?
What level of your home? (Basement, first floor, second floor, attic)

Room Decor

Will the new floor match the decorating style you've established for the room?

Measurements

Use a tape measure to measure the length and width of your room.
Which way will you lay your floor? (Length-wise? Diagonal?)

Subfloor

Is your subfloor concrete?
Will you need to replace the subfloor?
Budget
After you've answered these questions, it's time to create a budget. You can create the budget yourself or get professional help.
If you do it yourself, take advantage of the flooring estimator tools available on different flooring manufacturer and retailer websites.
A professional installer or contractor can provide an in-home estimate. Invite them to your home to assess your design plan and provide a written estimate.